Radon in Southern Alberta – Study offers New Insight on Radon in Calgary Area Homes
The Radon Study
Survey of radon gas levels in Calgary area or southern Alberta
The radon study was conducted between 2013 and 2016, Dr. Aaron Goodarzi and his team of researchers at the Cumming School of Medicine at the University of Calgary, tested about 2,300 homes in the Calgary area of southern Alberta for radon gas. They wanted to find out
Proportion of homes that have radon levels above recommended guidelines
How some home characteristics relate to radon levels
What is radon?
Radon gas is a radioactive gas that comes from the ground. Being radioactive, it can cause damage to our lung tissue when inhaled. This damage can eventually lead to development of lung cancer. Risk of developing lung cancer depends on how much radon one inhales and the period of radon exposure. In Canada radon is the second most common cause of lung cancer in Canada after tobacco smoking.
"It is a public health concern. We have over 300 patients in Alberta who never smoked a day in their life who are now dealing with lung cancer," Dr. Goodarzi says. "Radon-induced lung cancer is completely preventable and could save the government as much as $17 million a year in health-care costs in Alberta alone."
Radon concentration in air is measured in Becquerels per cubic metre (Bq/m3). Health Canada has provided  guidelines for testing for radon gas in homes as follows:
Radon levels in buildings should be below 200Bq/m3
A long-term test lasting at least 91 days is recommended
Summary of Study Findings
2,300 homes tested (long-term testing)
1 in 8 homes had radon levels above 200 Bq/m3

 

(above recommended guidelines)
Average radon levels: 146 Bq/m3
1 in 2 homes had levels above 100 Bq/m3
Radon mitigation was

successful in all homes

where mitigation was performed to reduce high radon levels (reducing radon levels by 92% on average).
Map of radon levels in the Wider Calgary Area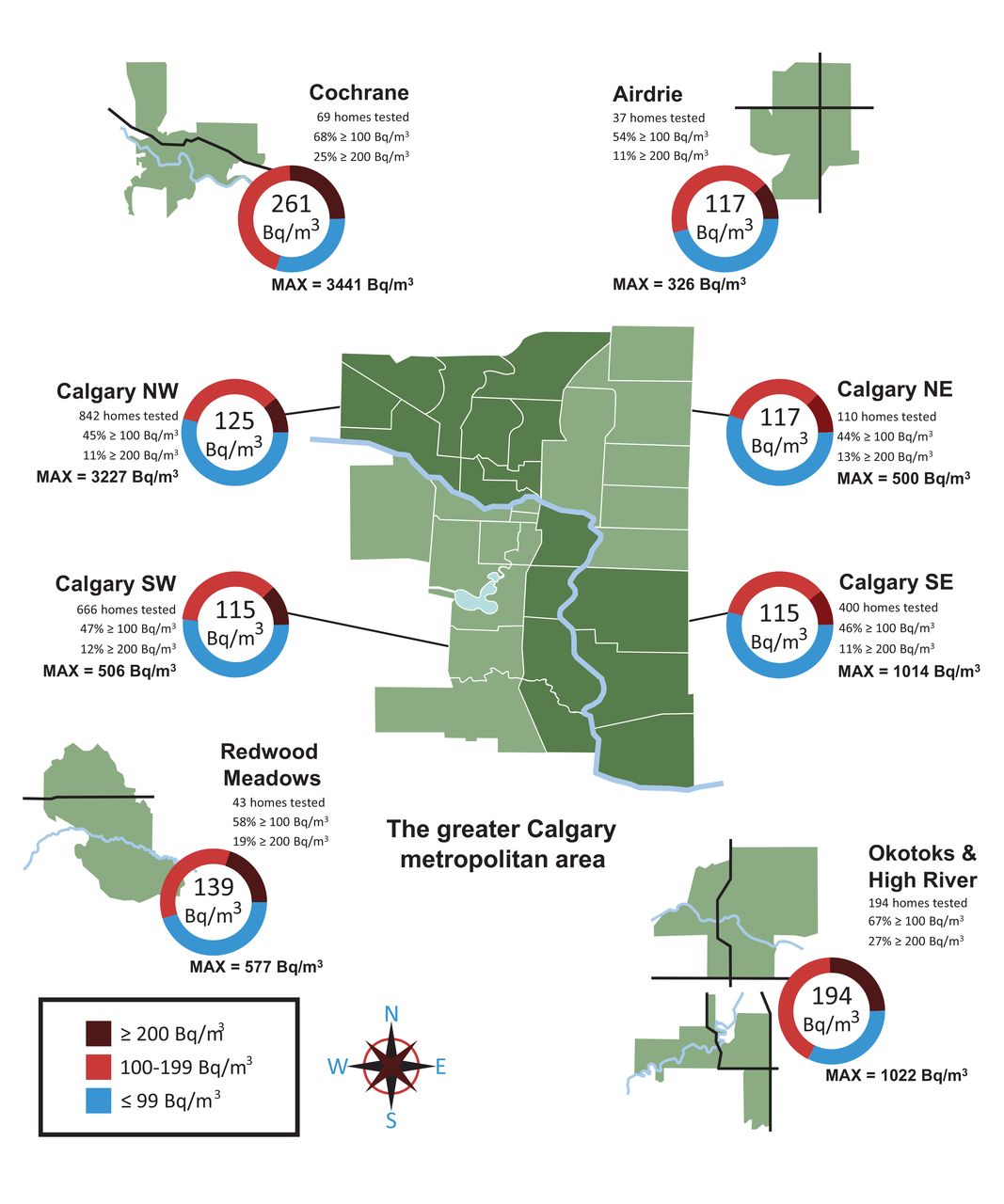 Radon and Home Characteristics
The study is one of the first in Canada to look at different house characteristics and how they relate to radon levels. The following is a summary of findings in this regard:
Newer homes (built on or after 1992)tested higher that older homes (built before 1992)
They authors think this is because of a few reasons
Newer homes are built more air tight for energy efficiency may inadvertently increase radon levels to lack of air exchange
Newer homes are built bigger – larger concrete floors are subject to more concrete shrinkage, which may create entry gaps for radon.
Newer homes are also built higher (more storeys) – 2-3 storeys compared to bungalow style predominant in older homes. This increase the the stack effect (natural movement of indoor air outside during cold season, since warm air moves up). This creates more negative pressure in the home, thus a vacuum effect that could effectively draw up radon into the home.
Easy Solutions to the Radon Problem
Many homeowners in Canada are still not aware of radon and its health risks. In 2014, the Canadian Cancer Society reported that 96 per cent of Canadians have not tested their homes.
Testing for radon is easy (costing anywhere from $50-$300) and there are effective ways to reduce high radon levels. As example, radon reduction was successful in all the homes that were remediated in the study. In an extreme example, one house was reduced reduced by 97.5 per cent, from a level of 3441 Bq/m³ to 86 Bq/m3.
You can test your home by buying a DIY radon kit or by hiring a professional to do the test for you. Ensure you conduct a long-term test for reliable results.